Design of Central Feeding and Conveying System
source:Central feeding system Author:Central feeding system time:2020-08-12 16:43:33
Design of Central Feeding and Conveying System
The automatic pellet feeding system has a variety of monitoring and protection functions, safe and reliable, and is the core force for enterprises to realize unmanned chemical factories. The role of the central feeding system:
1. Save labor costs and raw material costs, with a service life of more than 10 years.
2. Centralized management of raw materials to avoid waste and pollution.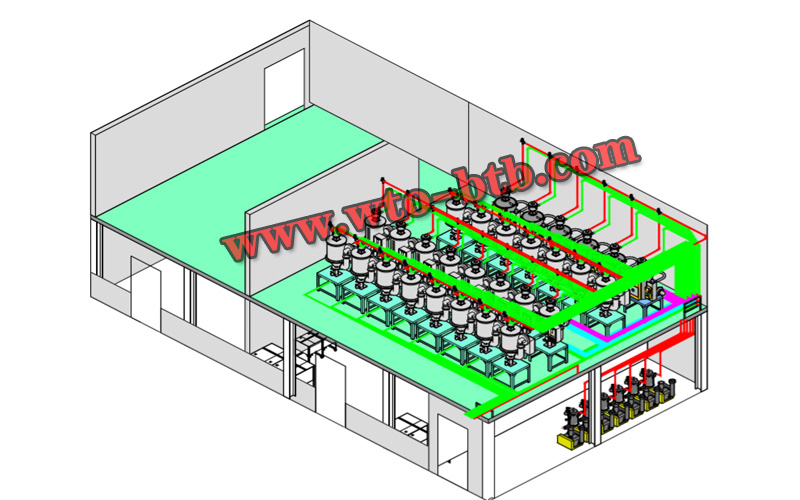 3. Keep the factory environment tidy and maintain the environmental protection system.
4. Conducive to maintaining stable quality, increasing output value, and maintaining the quality system.
5. Conducive to improve the company's image and win customer cooperation.
Features of the control system of the injection pellet feeding system:
1. Using original imported Mitsubishi PLC, Mitsubishi A970 color touch screen.
2. The high temperature closed loop ensures that the high temperature is maintained during the conveying process of engineering plastics and avoids the plastic from regaining moisture.
3. Evacuate the design, no residual material on the expressway
4. Food-grade seamless polished pipe, which can reduce dust generated by friction during raw material transportation
5. The conveying pipe adopts 1.5mm, the elbow pipe is specially carbonized, which can enhance the hardness, suitable for adding GF engineering plastics
6. Centralized management of raw materials can save energy and reduce costs
7. Cooling dust collector, patented design. It can cool the high temperature generated by the closed circuit and extend the service life of the main engine by more than ten years.
Central feeding system technology and equipment
| | |
| --- | --- |
| Central feeding system equipment | Common problems of central feeding system |
| | |
| | |
| --- | --- |
| Address: | 168 Guangming New Street, Dongcheng District, Dongguan City, Guangdong Province, China |